Sercos - Testlabor & Kompetenzcenter
Conformity Tests for Sercos Devices
As of April 2001 the Institute for Control Engineering of Machine Tools and Manufacturing Units (ISW) has been authorized by Sercos international e.V. (SI) to perform compliance tests for sercos devices according to the international standards IEC/EN 61784/61158 (sercos communication profiles CP 16/1, CP 16/2 and CP 16/3) and IEC 61800-7 (sercos drive profile). The objective of the compliance tests is to ensure the compatibility and interoperability of sercos devices of different manufacturers.
For the conformity evaluation the Master Conformizer for certifying sercos master devices and the Slave Conformizer for the certification of slave devices have been developed.
Contact (Technical Issue)
Sercos Test laboratory & Competence Center
Institut für Steuerungstechnik der Werkzeugmaschinen und Fertigungseinrichtungen (ISW)
Universität Stuttgart
Seidenstrasse 36
70174 Stuttgart
Contact (Sales)
Ansprechpartner
Dipl.-Ing. Peter Lutz
Anschrift
Managing Director
sercos international e.V.
Kueblerstrasse 1
73079 Suessen
Germany
E-Mail
p.lutz@sercos.de
Website
www.sercos.de
Master Conformizer
The implementation of the Master Conformizer is based on definitions from various test cases, which allows the verification of the conformity of master devices with the sercos specification.
With sercos I/II (CP 16/1 and CP 16/2) the conformity is verified by means of an automated test. In case of sercos III the test cases are conducted manually so that the manufacturer has to provide a qualifed person for this purpose.
Slave Conformizer
Description
The Slave Conformizer developed in the sercos test lab & competence center was made for the certification of sercos slaves (drives, I/O peripery, etc.). The objective of the Slave Conformizer is, on one hand, to check the conformity of the sercos slaves with the sercos specification. On the other hand, the development of the sercos slaves is to be optimized by the Slave Conformizer.
Conventional approach with fieldbus device development
Device development based on a reference unit
Device certification only after the development stage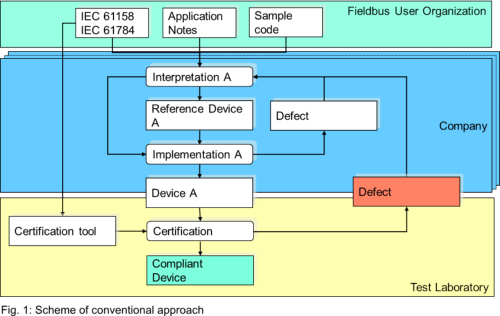 Drawbacks
Development of a reference unit is time-intensive
Interpretation errors of the specification are included in the reference unit
Errors are only detected during certification
The necessary error correction is associated with great effort
Solution
Development of a generally available reference unit
Test driven development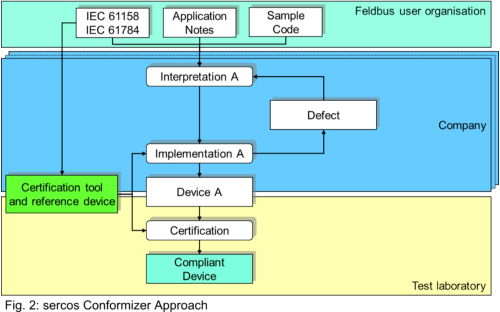 Benefits
The reference unit is identical to the certification tool
Errors can already be detected during the development stage
Architecture of the Slave Conformizer
Use of SERCANS PCI plug-in card as sercos Master
Reduced complexity of application through the use of a standardized network protocol (SOAP) for communicating with the SERCANS card
Fast test case processing by implementing the tests into the object-oriented script language Ruby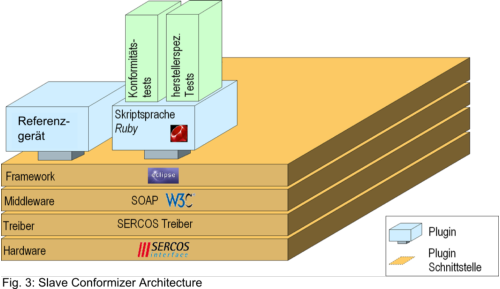 Connection of the sercos Slave Conformizer
The communication between the framework and the SOAP server takes place through the standardized Transmission Control Protocol (TCP) connection
The communication between the SOAP server and the SERCANS card takes place through the physical interface Dual Ported RAM (DPR)
The SERCANS card and the drive to be certified are connected over the standard Ethernet cable (CAT5)