The German Pavilion at the world exhibition 2015 in Milano
Universal, big world exhibitions take place every five years, alternating with smaller exhibitions. The upcoming big exhibition in Milano follows the exhibitions of Shanghai (2010), Aichi (2005) and Hanover (2000). The Expo's theme 2015 is "Feeding the planet, energy for life". It represents itself as a sustainable agrofood park without massive monumental buildings. The motto of the German Pavilion "Fields of Ideas" is "Be active!".
On behalf of the Federal Ministry of Economics and Energy, Messe Frankfurt is responsible for organising and operating the German Pavilion at the World Exhibition in Milan 2015. The concept, planning and realization of the German Pavilion was handled by the consortium of Milla & Partner (Stuttgart), Schmidhuber (Munich) and Nüssli Deutschland (Roth near Nuremberg). Milla & Partner are responsible for the thematic concept, the exhibition and media design, Schmidhuber for the spatial concept, architecture and general planning and Nüssli for implementation and project management. The expo site is located near the existing Milan exhibition grounds.
The World Expo was open for six months – from May 1 to October 31, 2015.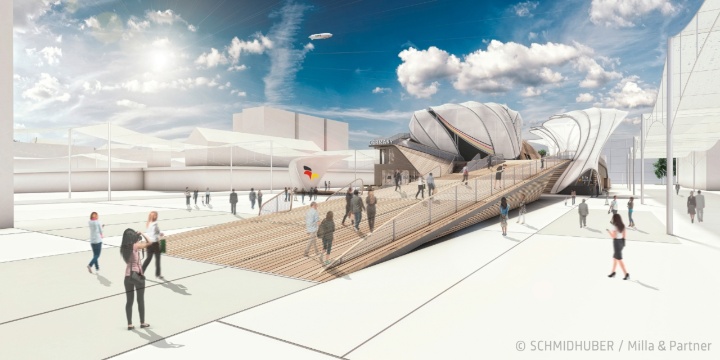 Feeding the Planet, Energy for Life | Be(e) Active
The EXPO 2015 in Milan, with the motto "Feeding the Planet, Energy for Life" wants to provide answers to the future challenges of world nutrition. Germany takes this topic seriously and makes a credible and authentic contribution, which creates an awareness of the forces of nature as essential sources of our nutrition, which must be better protected and used intelligently in the future.

Contribution of the ISW
Visitors to the German Pavilion are offered a journey through the lush and green landscape of Germany: A route with ideas and solutions that represent the perspectives of a considerate and respectful approach to nature.
At the end of the visit, the visitor arrives at the exhibition of new ideas for food with which one can interact in an innovative way – through a seed board as well as through the eyes of two bees.
These two bee eyes are one of the highlights of the German Pavilion. Here the technology of parallel cable robots, which are used for the movement and rotation of the bee's eyes, is used. In particular, trajectory generation and validation is an essential part of the research fields at ISW.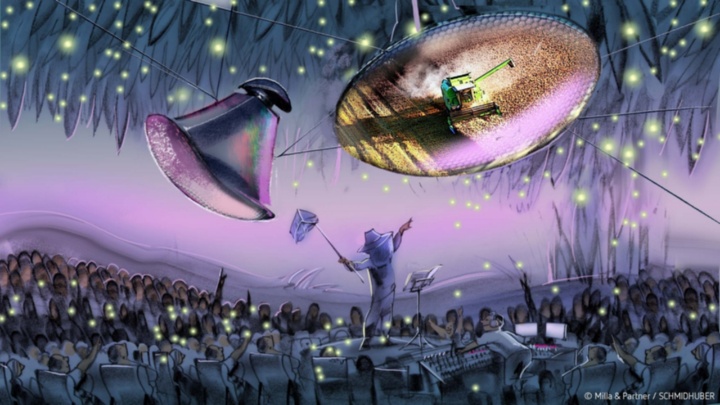 Get in touch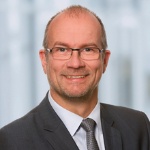 Oliver Riedel
Univ.-Prof. Dr.-Ing.
Head of Institute, holder of the chair "IT for Production"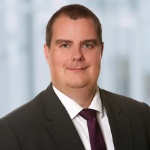 Armin Lechler
Dr.-Ing.
Deputy Director
Managing Chief Engineer